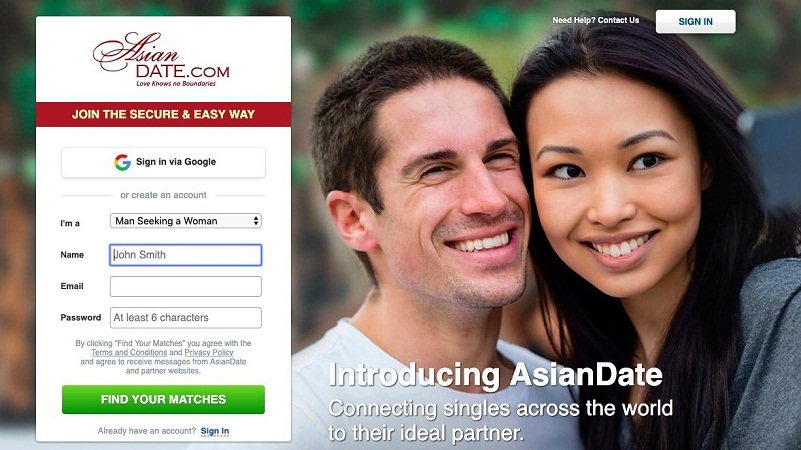 AsianDate.com was one of the first companies to develop a platform designed to connect people from around the world and it remains at the forefront of its field, continually developing improved communication technologies that allow people to discover and enjoy the possibilities of an exciting, globally-interconnected future. The site now has over 20 million members, more than 80 million visitors annually and 1.5 million+ messages exchanged daily.

Hot Chinese Models – AsianDate.com
AsianDate has some of the hottest Asian mail order brides you will find anywhere online. In fact, if you are dreaming of dating hot Chinese models. It is probably the best place on the internet to begin your quest. There are a lot of beautiful Asian ladies on the site now. But you should check back regularly to AsianDate because they make it their business to find super hot Chinese models, beautiful Filipina girls, and sexy Thai brides.
AsianDate is owned by Anastasia International, and as with all the sites in the AnastasiaDate, family communications flow exclusively through their site, and all personal data and contact information is deleted from your emails.
RELATED ARTICLE: EliteSingles.com
Frequently Asked Questions
How do I delete AsianDate.com account?
Account deletion can be requested through email correspondence with AsianDate customer support.
How do I chat with users on AsianDate.com?
In every search query result, there is a chat option which you can just click to begin chatting right away. However, this is not a free feature.
Is AsianDate.com safe to be a member of?
AsianDate has terms and conditions for fair use. It is up to you if you want to pay the website for its features.
Can I send a message for free at AsianDate?
Only the first exchange is free at AsianDate. If you want to interact with the members more, you'll be asked to upgrade by purchasing Credits.
Are the profiles in AsianDate real?
The authenticity of the profiles in AsianDate is controversial. There have been reports of stolen photos of women found on the website.
What is the price list of Asiandate credits?
20 Credits for 15.99 USD
160 Credits for 96.00 USD
1,000 Credits for 399.00 USD
What are the paid features of AsianDate.com?
There are many special features on AsianDate
Reply to letters Live
chat with female profiles
Cam Share
View videos on women's profiles
Virtual Gifts Flowers and presents delivery
Three-way call with an interpreter
Is AsianDate expensive?
Yes, In comparison to other providers AsianDate is expensive.
How does Asiandate.com Work?
Asiandate.com helps Western men liaison with the best in Asian women through a network of over 1000 dating agency partners located in cities across Asia. Asiandate.com brings romantic couples together in a number of ways starting with Search,
Email Correspondence and
Call Me, then move to "live" platforms such as organized dates in Asian.
What is Love Note on AsianDate.com?
It is easy to catch the Lady's attention by sending her Love Note absolutely free for you.
Just find the "Love Note" icon in her profile,
choose one of the most beautiful cards and
click "Send for Free".
Phone Number: +1 (800) 311-7598
Address: 551 5th Ave, New York,
NY 10017, United States
Reviews
Site is about money only
Site is about money only the women will always lead you on try to get you hooked on them to talk it's only on site never off
Don't fall for this dating site
Don't fall for this dating site . It is a scam. Registration fee was paid by me followed by no service.Their customer service doesn't exist and no refund results. To determine, look at the profiles and almost all profiles are similar. Chat with more people and conversations are similar.Same questions are repeated which makes our time waste and purchasing coins. Don't waste your time like I and many others did!
This is the worst dating site
This is the worst dating site. They ignore your location and send you matches from various other states. You will get messages that you have many reviews. They are not there. There are members photos on this site from years ago. I know this for a fact because I was on this site in 2018 and met a guy. When I went back on this site his profile came up. Same one same pic from 2018 and I know he is and has been in a good relationship. So DON'T DO IT. It's too expensive for what you get and the men are mostly just surfing and not seriously looking.
There are more frauds on this site
There are more frauds on this site, than are sitting in jails. They don't want you to find someone, because then you and the money will go away. I only started a profile to see what there was to see. I can say that all of the the complaints on here are legit. I can't even access the account part to delete the profile. Beware!
This site is a total fraud
This site is a total fraud. These women don't even exist nor are they members. Please be concious that the head office is in Germany, call them and you will be speaking to someone in Germany. I reported to the consumer protection of the state of Florida.
I am completely SHOCKED
I am completely SHOCKED by the amount of scammers that this site allows on their side. I has been scammed over a dozen time for a littler over a month. This is completely unacceptable! I thought this website was a safe app and respectable but an learning quickly the opposite.and to top it off they don't phone number for people to call and complain.
Avoid! Terribly overpriced
Avoid! Terribly overpriced, badly functioning, ignores your stated choices (eg on how far you are prepared to travel), poor matching, very difficult to access support – who are unhelpful when you do, and This have an underhand renewal process by stealth. I canceled days before renewal and they still charged me.
Really bad website
Really bad website u pay for 6 months but after a month I stopped receiving the service I paid for -I can prove this as someone who I started communicating via WhatsApp screenshot and sent me the messages he had sent via this site but which I never received!
This site needs to be sued
This site needs to be sued! I used service for 2weeks and cancelled. Now they have turned me into to collection after 6 months to extort a 1 year membership fee. No cooling off period, matches don't match or live in my area. This dating site is old and changed their personality match test. (example of questions…which ink blob do you like better?! None of my matches matched! this site told me to lower my expectations. I guess I should not expect to meet someone in the same state, or someone I have anything in common with.
Don't use the customer care
Don't use the customer care number doesn't work and I'll never go on this web dating website again I'm trying to figure out how to cancel my membership I've been advised others to do the same.
Not a good company
Not a good company. I have two friends that got blocked. And it really look if you do not sign as a paid member they block you. And the dating on that sire is the worst I ever experience. Endless writing and no meetings.
It's a con
Don't purchase on this site it's a rip off there are no matches they I give you in with their adverts but no matches/nobody real on the site it's a scam. Don't waste your money it's a con
Useless website!
Signed up yesterday. Literally, seconds after I signed up, it logged me off. When I tried to log back in, it said my account has been blocked by the admin. Why? I haven't done anything yet, but answered a few questions an uploaded one of my photos. Trying to reach them by phone yesterday and today have both been unsuccessful. Useless website!
Not a safe place
This dating site is not a safe place to find a partner, date, or anyone else.
Was a little disappointed
Good site… Was a little disappointed when I went on to read the conversation that I initially had with my now boyfriend (I was going to copy it and make a photo album for him for Christmas) and it had been deleted… Not by me tho:'-(… That was something special to us… This site got us connected and we wanted those memories 🙁
He is so sweet
This man is very kind and generous. He is so sweet made me feel good about myself and my hard was taken away from me the Monet we meet he is special
Cheers for the weirdos
Cheers for the weirdos that starred at my profile but didn't speak or reply to messages..
Not refund my money
They charged me for another 6 months without my consent when I contacted the third party, I was told that they would not refund my money.
Waste of money
Waste of money, time and effort. They will decide for you and manipulate your profile thinking women are viewing you when they are not.
Good site for locals
Good site for locals although no filter for mileage distance. Need a filter added to prevent unrealistic long distance relationships as an option.
Very happy
Meet someone and this was my last resort and wish to not continue due to finding a person my soulmate, very happy, moving forward to the future to be happy in life
It is a good site
It is a good site for older men, has a fresh format and is down to earth. I've met a range of fun and interesting guys here I haven't seen elsewhere
It has worked for me
It has worked for me I have found my true love and soul mate
Girls are stunning!
Girls are stunning! I cannot wait until the end of the day to come back home and open the site. All the beauty I see here makes me feel better. Maybe one day I would come back home and see one of those beauties waiting for me here.
Easy, quick and simple
Easy, quick and simple to use.I tried to find the perfect match for me on many sites but the reason why I like the most is that takes me less then 5 minutes from sign up to great chat with beautiful girl.
Greatest experience
Did not know what I was looking for at first and canceled a couple of times, then when i decided to try a little longer, I met nice girl and we have had the greatest experience of getting to know one another. She is like no other woman I have met.
Be careful!
This site is bad for anyone. Be careful!
I had to cancel my credit card
There's no way to contact anyone to file a complaint so I had to cancel my credit card so they wouldn't steal anymore of my money.
I met a nice lady
I met a nice lady whom is wonderful and we get along great. We plan on spending are life together. Traveling around the country and fishing along with going to old car shows.
Stay away
Stay away. They are dirty rotten company with no morals or ethics that obviously have slave labor deceiving customers! BIG FAT WARNING!!!!
I highly DO NOT recommend this site at all!
I highly DO NOT recommend this site at all! Their business is dirty and they prey on those looking for a partner. They won't last long!
Hilarious!!!
Hilarious!!! If you like blue balls, join. I deactivated my account and the guy asked me what I think if he gave me 20 free credits. Told him I think pornhub is free without the blue balls. Lol. Dumbass

Its all about money
Its all about money you cannot see who likes you if indeed they do way too expensive with auto payments

AsianDate.com is set up to steal your money
It is set up to steal your money, chat does not even have to happen and you are being charged. They will not give a refund of the credits even after you prove there was a mistake.

Do not waste your time on Asiandate
Do not waste your time on this website. You will receive interest signals every 5 minutes from people who don't even exist in your area. Asiandate sends them to you to make money. If you request your ad to be removed from the system, they refuse to. Customer service constantly lies to you on the phone. The service is a scam !!!!!
AsianDate.com is Big Scam
Recently registered on this crap site and i got 2 messages from Chinese girls with a cool HD photo, writing me a copy paste text..Every girl have the same thing, a "internet stolen" HD profile picture and makes you "talk long with her" to force you to pay to keep talking.
It's like others reviews say, probably most of the real womans here are PAID by ASIANDATE to grab idiots and make him waste their money.
If you don't believe me just stay10 minutes on this site and try find a average girl without HD photo -LOL-
This site is 10 times worse than CUPIDMEDIA sites, is more legit scam.